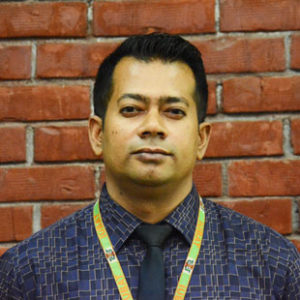 Zahir Rayhan Selim
Assistant Professor
MBA (UK), BBA (USA),
Postgraduate Diploma (UK)
Room # 424 Ext # 479
E-mail : zahir.rayhan@iubat.edu
Mr Zahir Rayhan Salim is a faculty member of College of Business Administration. He has completed his Master's of Business Administration from Coventry University, UK majoring in Innovative Management. And Bachelor of Business Administration in International Business from Oxford Trent University, USA after successfully completion his 2 years transfer program from Malaysia. He passed his HSC from Notre Dame College from science discipline.
His area of interest is Operations Management, Supply Chain Management and Strategic Management whereas several research articles have published in reputed national and international journals while some of them SCOPUS indexed.
MBA in Innovative Management, Coventry University, UK
BBA in International Business, Oxford Trent University, USA.
PGD in Business Management, British Institute of Technology and E-commerce,UK.
Operation and Supply Chain Management, Strategic Management, Project Management and Entrepreneurship.
Research Interest: Supply Chain Management, Logistics Management, Strategy and Technology
Referred Journal Articles:
Disparities in Maternal and Newborn Health Interventions in Bangladesh: Evidence from the latest Demographic and Health Survey. Annals of Tropical Medicine and Public Health, 23, 231-639.(2020)
Financing for Higher Education in Developing Nations Due to COVID- 19: Journal of Xi'an University of Architecture & Technology; Volume XII, Issue VIII, 2020 ISSN No : 1006-7930 Page No: 433
A Brief Overview of the Classical Transportation Problem; Journal of Xi'an University of Architecture & Technology; Volume XII, Issue IV, 2020 ISSN No : 1006-7930 Page No: 3425
Sustainable Supply Chain Management Practices and Challenges of Agri-business in Bangladesh" IUBAT Review 1 (3): 68-77
Simultaneous Balancing and Scheduling of Order in a Supply Chain: A Goal Programming Approach. International Supply Chain Technology Journal, 6(04)(2020)
Depression and Associated Factors among Undergraduate Students of Private Universities in Bangladesh: A Cross-sectional Study. International Journal of Psychosocial Rehabilitation,2020. 24(2).
Green Supply Chain Management Practices by Superstores in Bangladesh: A Case Study in Dhaka. European Journal of Business and Management, 11(16), 61-65.
The Impact of Internet on the Youth Leadership. Business Ethics and Leadership, 3(3), 99-106.(2019)
Determinants of Academic Performance of Undergraduate Students in Private Universities in Bangladesh: A Case Study. Global Journal Of Human-Social Science Research;volume18 issue 11 page 28-34(2018).
Council member of South and Southeast Asian University Network Sub-committee of Innovation and Entrepreneurship Education.