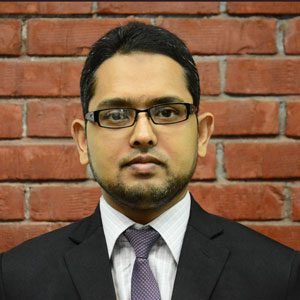 Shaikh Sabbir Ahmed Waliullah
Assistant Professor and Coordinator of the MBA Program
MBA(UK),
BBA(Rajshahi University)
Room # 522 Ext # 517
E-mail : shaikh.waliullah@iubat.edu
Shaikh Sabbir Ahmed Waliullah is a faculty in CBA, IUBAT. He has more than 6 years teaching experiences both in BBA and MBA program. Mr. Shaikh Waliullah completed his MBA in Finance from the Cardiff Metropolitan University, UK. He completed his BBA in Finance & Banking from the University of Rajshahi. He is an ex cadet of Rangpur Cadet College.
Mr. Shaikh Waliullah has got research experiences. He has article publications in different international journals including Scopus indexed journal. He has research interest in Corporate Finance, Fintech, Islamic Finance, E-commerce and E-learning.
MBA in Finance (UK)
BBA in Finance & Banking (RU)
HSC & SSC in Science (Rangpur Cadet College)
Financial Accounting
Managerial Finance
Banking and Financial Institutions
Capital Investments Decisions
Financial Management
Auditing
Taxation
Corporate Finance
Commercial Bank Management
Management of Financial Institutions
Management of Insurance Business
International Financial Management
Introduction to Business
Business Communication
Business Finance
Project Management
Entrepreneurship
Marketing Management
Production and Operations Management
Career Planning and Development
GAZI, A. I., RAHAMAN, A., WALIULLAH, S. S. A., ALI, J., & MAMOON, Z. R. (2021). Financial performance of converted commercial banks from non-banking financial institutions: Evidence from Bangladesh. The Journal of Asian Finance, Economics, and Business, 8(2), 923-931.
DOI: https://doi.org/10.13106/jafeb.2021.vol8.no2.0923
Abir, T., Husain, T., Waliullah, S. S. A., Yazdani, D. M. N., Salahin, K. F., & Rahman, M. A. (2020). Consumer Buying Behavior towards E-Commerce: A Survey Study of Consumers at a Selected Online Shopping Site in Dhaka, Bangladesh. Open Journal of Business and Management, 8(6), 2716-2728.
DOI: 10.4236/ojbm.2020.86168.
Yazdani, D. M. N. A., Abir, T., Kakon, K., Waliullah, S. S. A., Husain, T., &Supty, S. S. A. (2020). Factors Influencing the Usage of Broadband for the Youth and Adolescent in Bangladesh: A Cross-Sectional Study. Journal of Advanced Research in Economics and Administrative Sciences, 1(2), 14-29.
DOI: https://doi.org/10.47631/jareas.v1i2.47