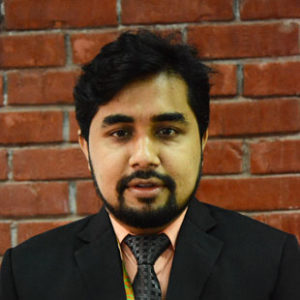 Mohammad Kamruzzaman
Assistant Professor
MBA in HRM, (UK) , BBA (UK)
Room # 301   Ext # 240
E-mail : mkamruzzaman@iubat.edu
Mohammed Kamruzzaman joined College of Business Administration (CBA), IUBAT in April 2014 and now servingthe college as an Assistant Professor. He also worked for Independent University Bangladesh (IUB) as an adjunct faculty.
He has a MBA degree in Human Resource Management from University of Plymouth, United Kingdom. He also holds BBA degree from University of Wales, United Kingdom.
He teaches different courses in Human Resource Management and other business courses in BBA and MBA program. His research interests include Human Resource Management in organizations. He has published 10 research/review articles and a book so far in peer-reviewed national and international journals including- leadership in Bangladesh corporate culture, employment fulfillment, training program and evaluation, employee productivity, employee performance, working mother performance during pandemic, knowledge transfer, COVID-19 pandemic review, sustainable employee performance etc.
Masters of Business Administration(MBA) from University of Plymouth, United Kingdom
Bachelor of Business Administration(BBA) from University of Wales, United Kingdom.
Human Resource Management, Compensation Management, Organizational Behavior, Training and Development, Organization Structure and Design, Unionism and Collective bargaining and any other management related courses.
"Leadership in Bangladesh Corporate Culture"-A research on the changes in organizational leadership & culture in Bangladesh.
A Comparison Study: Employment Fulfillment of Public and Private University Staffs in Bangladesh.
Analysis on Effective Training Program and Post Training Evaluation: A Study based on Bangladeshi Super shops.
The Effect of Traffic Congestion on Employee Productivity in Dhaka Bangladesh.
Impact of Corona virus (COVID-19) and Employees' Reaction to Changes on Employee Performance of Bangladesh.
Impact of Mental Pressure and Coronavirus (Covid-19) on the Work Performance of Working Mothers of Bangladesh.
The Mediating Role Of Knowledge Transfer Between The Relationship Of Training And Accepting New Technology In The Era Of Industry Revolution 4.0.
COVID-19 Pandemic and Bangladesh: A Review
What If We Have to Live with COVID-19? The Mediating Effect of Self-Entertainment for Sustaining Employees Performance